12:00 PM ET
ARLINGTON, Texas — With 52 seconds left in the game, Dallas Cowboys backup quarterback Andy Dalton walked onto the AT&T Stadium field with a giant smile on his face.
He left with an even bigger smile after helping the Cowboys defeat the New York Giants 37-34 on Sunday with a final-minute drive — even if he could not get the thought of Dak Prescott's injured right ankle out of his mind.
"You want to be in that situation, tie ballgame, chance to go down, two-minute drive, to win a game," Dalton said. "You want to instill confidence in everybody. I've obviously been in these situations multiple times. … That's why you play this game, for moments like that."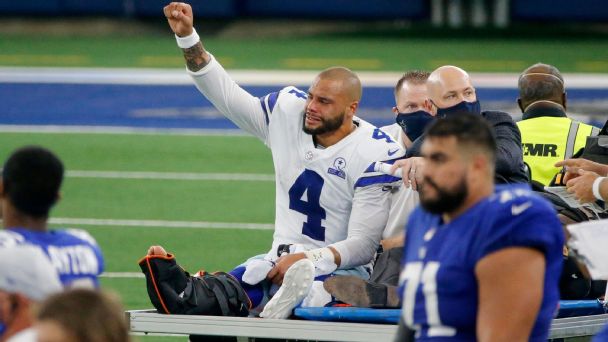 &#8226 Stephen Jones: Dak is still 'our future'
&#8226 Barnwell answers eight questions on Dak
&#8226 'Biggest Eagles fan' sends well wishes
&#8226 Jason Reid: Jerry Jones isn't to blame
&#8226 Dalton ready to take over in Prescott's place
&#8226 Social media reacts to Dak's injury
Dalton was not sure he would experience moments like the one he had in Sunday's game ever again.
In nine seasons with the Cincinnati Bengals, who drafted him No. 35 overall