6:00 AM ET
FLORHAM PARK, N.J. — A look at what's happening around the New York Jets:
1. Sam's (Fan) Club: Listening to general manager Joe Douglas, it doesn't sound like he will be swayed by how Ohio State quarterback Justin Fields plays Monday night in the College Football Playoff championship. Douglas believes the bulk of the scouting is done; he sees this as the "final-piece-to-the-puzzle" stage. That, of course, won't stop fans and media from dissecting every pass and speculating whether Fields is worthy of the No. 2 pick in the 2021 NFL draft.
As the debate rages, one voice worth a listen is that of ESPN draft analyst Todd McShay, who has known Douglas for 25 years. Speaking on the "First Draft" podcast, McShay sounds pretty convinced Douglas won't draft a quarterback and will run it back with Sam Darnold in 2021.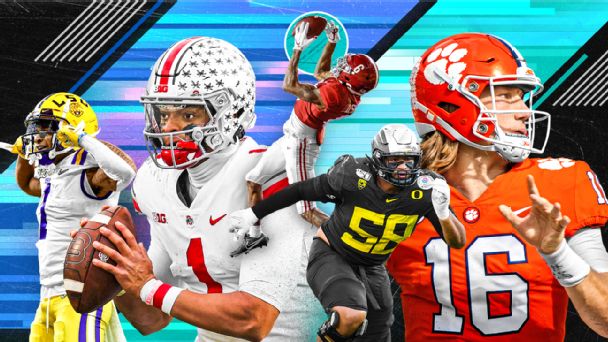 • Meet the loaded, elite QB class »
• 30 big questions for Kiper & McShay »
• Mini mock of the projected top 10 »
• Rankings: Kiper » | McShay »
Full ranking » | Pick order » | More »
"I know Joe Douglas. I obviously played with him in