1:30 AM ET
SAN FRANCISCO — Stephen Curry didn't allow himself to wallow in self-pity or shake his head in frustration on the night of the worst shooting performance of his career. He smiled wide at the idea that he could go 2-for-16 and the Golden State Warriors could still find a way to squeak out a 106-105 win over the Toronto Raptors, as they did on Sunday night.
Did Curry ever think he could shoot that poorly from the field and his team could still win this season?
"Well, I never thought I'd go 2-of-16," Curry said with a grin. "So I never even thought about that."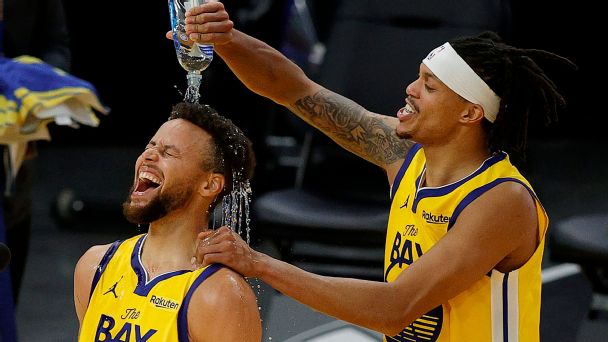 The NBA is back! Catch all the 2020-21 season action on ESPN, ABC and the ESPN App.
Wednesday, Jan. 13
• Nets at Knicks, 7:30 p.m. on ESPN
• Pelicans at Clippers, 10 p.m. on ESPN
All times Eastern
Though Curry would love to forget the way he shot, he took solace in the fact that his teammates rallied around him to the point where the Warriors could still pick up the kind of victory that would have eluded them earlier in the season. Curry's 2-for-16 outing