6:00 AM ET
EAGAN, Minn. — When Minnesota Vikings coach Mike Zimmer used to be asked about his preference for a run-heavy offense, he would redirect and talk about wanting a balanced attack.
Days after Dalvin Cook posted 226 yards from scrimmage, including 163 yards rushing, and four touchdowns in a 28-22 win over the Green Bay Packers, Zimmer was talking a different game.
"I think we want to be a run-first offense, a run-first team," Zimmer said.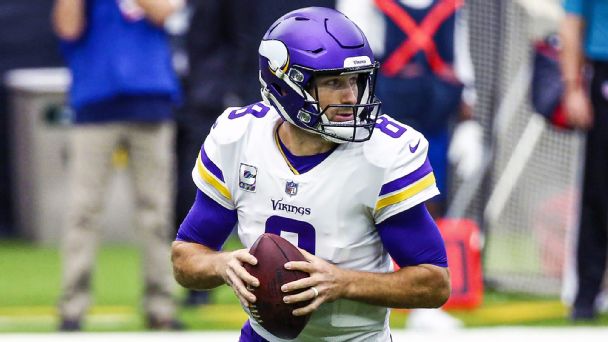 &#8226 Keep the ball out of Kirk Cousins' hands?
&#8226 Chargers' Mike Williams bringing it together
&#8226 Key to reviving Seahawks' pass rush?
&#8226 Steelers changing ways with in-season trade
&#8226 Colts' D respects Lamar, but can't 'fear him'
The 2-5 Vikings have the highest designed-run percentage (48%) in the NFL. Despite missing 1½ games this season with a groin injury, Cook ranks second in rushing (652) and rushing yards per game (108.7). He has scored a touchdown in six straight games, which is the longest active streak in the NFL, and has the second-most rushing touchdowns (23) since the start of last season.
On the other side of Cook's monster game against the Packers is what quarterback Kirk