9:55 AM ET
Before the Los Angeles Lakers' first official training camp practice, Frank Vogel and his staff gathered the team in their film room for a PowerPoint presentation on what their defense would look like.
Vogel wanted them to be the league's most physical team — echoes of the "smashmouth basketball" vision that guided his Indiana Pacers teams. Every opponent shot was an invitation to hit someone in the rebounding scrum. "He wanted us to legally, cleanly, smash people," Jared Dudley recalled to ESPN.
There would be no switching out of convenience — no "lawless switching" as Vogel terms it. Vogel told the team he did not want to "invert" its defense — to have big men switching onto guards. The Lakers were huge, with LeBron James, Anthony Davis, Dwight Howard, and JaVale McGee. They would not waste that size 30 feet from the rim unless an ace shooter required it. (Even then, switching would not be the first choice.)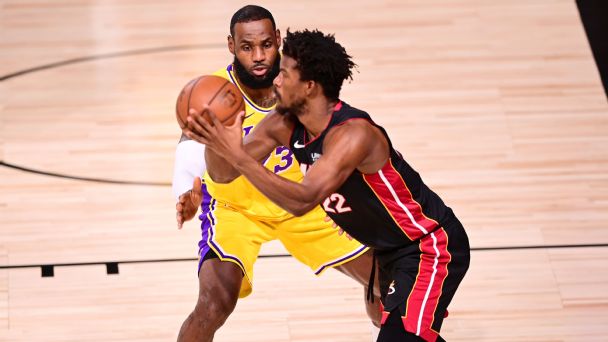 ABC and the ESPN App are your exclusive home for the NBA Finals between the Miami Heat and Los Angeles Lakers!
Sun., Oct. 4: Game 3, 7:30 p.m. ET
Tue., Oct. 6: Game