6:00 AM ET
CHARLOTTE, N.C. — The Carolina Panthers faced third-and-2 from the Atlanta 32 in the second quarter Thursday night. Running back Mike Davis split wide left and wide receiver Curtis Samuel lined up in the backfield next to quarterback Teddy Bridgewater.
At the snap, Samuel faded to his right and caught a quick pass from Bridgewater for 3 yards and the first down.
Coach Matt Rhule pointed to this play as one way the Panthers (3-5) could utilize Davis and Christian McCaffrey in the lineup together when the Pro Bowl running back comes off injured reserve, likely for Sunday's game against the Kansas City Chiefs (1 p.m. ET, Fox).
He didn't rule out using Samuel at running back and McCaffrey at wide receiver as well.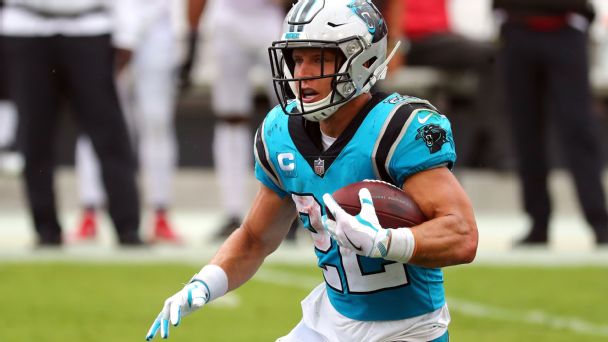 &#8226 Why McCaffrey will be workhorse again
&#8226 The day Plummer threw for 499 yards
&#8226 Davis proving his worth for Titans
&#8226 When will Raiders' O-Line be together?
&#8226 Dallas' O-Line hit hard by injury
"We all know Christian's ability to line up and play receiver," Rhule said. "So I think the door is open to be creative with all those guys."
How often remains to be seen. In