Sep 29, 2020
Jeff PassanESPN
ESPN MLB insider
Author of "The Arm: Inside the Billion-Dollar Mystery of the Most Valuable Commodity in Sports"
Someone asked about the best thing I saw in the 2020 Major League Baseball regular season, and my answer was baseball. Not a titanic Ronald Acuna Jr. home run or a dazzling Mookie Betts throw or an obscene Yu Darvish splitter or Trevor Bauer doing his Conor McGregor walk or Fernando Tatis Jr.'s drip or a Jose Ramirez walk-off or Adalberto Mondesi stealing second or Juan Soto swinging or Tim Anderson flipping or Mike Trout Mike Trouting, though admittedly I enjoyed all of those things.
Honestly, it was great to just see a groundout.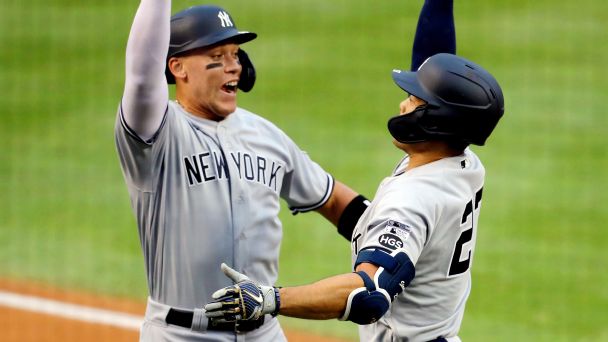 Watch the most exciting opening round in MLB history on ESPN and ABC.
ESPN+ Squeeze Play: Whiparound coverage of every game
Wednesday, Sept. 30:
12 p.m. ET: Reds-Braves on ESPN
1 p.m. ET: Astros-Twins on ESPN2
2 p.m. ET: Marlins-Cubs on ABC
3 p.m. ET: White Sox-A's on ESPN
5 p.m. ET: Cardinals-Padres on ESPN2
7 p.m. ET: Yankees-Indians on ESPN
10 p.m. ET: Brewers-Dodgers on ESPN
Thursday Oct. 1:
12 p.m. ET: Reds-Braves on ESPN
1 p.m. ET: Astros-Twins